What's the No. 1 pig-producing county in the nation? Want to know about the leading pork item on restaurant menus? Ever wondered about the carbon footprint of the U.S.pork industry?
You can find answers to these and many other pork questions in new Quick Facts: The Pork Industry at a Glance book. This user-friendly, 118-page guide offers accurate, informative updates on everything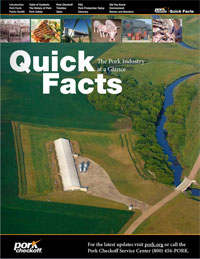 from how pigs are raised today through the We Care initiative to a breakdown of the industry's latest pork stats.
"The story of pork production in America offers a unique and fascinating look at how modern livestock production has evolved," says Chris Novak, CEO of the National Pork Board. "While the economies of scale are unlike those of past decades, the commitment of today's pork producers remains unchanged—to provide their communities and the world with safe, wholesome and sustainable sources of high-quality pork."
The Quick Facts book has been a year-long project, and the result includes a printed version of Quick Facts and an online version that includes a new, searchable format. The online version at pork.org also includes the "Tell a Friend" option, which allows you to send a link to the Quick Facts book to the recipients of your choice.
Quick Facts offers a wealth of current information, including:
The history of pork
Pork production today
The environment (including manure and nutrient management, water quality and odor management)
Pork safety
Frequently asked questions
Statistics on the number of U.S.hog operations, market share, exports, Canadian statistics and more.
Click here to download Quick Facts.